Campus
Ensuring a happy, healthy environment in which our children enjoy learning is central to our ethos. The school has an excellent building and a good sized playground, which enable children to participate in various sports activities.
Classrooms
Scientific research has proved that the brain takes in more information only in a comfortable temperature and environment. Our classrooms are bright, cheerful and spacious. To insure each child benefits from the learning experiences at school we have an ideal teacher child ratio.
Science Laboratory
To acquire the ability to observe, experiment, hypothesise, infer, handle equipment accurately and make correct recordings, we have well equipped Science Lab.
Transport
The School's first concern is the child's welfare and the school has a duty to protect the child at all times.


In the interest of safeguarding the school has two mini buses as safety conveyance of pupils.
Library and Maths Laboratory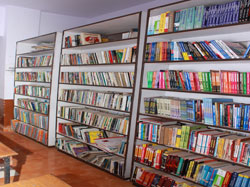 A school library is not merely a collection or store house of book, but it is in fact a treasure house of knowledge. There are books of all types & topics. Library books are regularly replaced and there is an annual review and update of resources for classrooms and for the different subject area. Our Laboratory of Mathematics provide children a meaningful experience in problem solving, number usage and practical application of initial number concepts.